In 2009, our family went to China to see a solar eclipse. This was the second solar eclipse we had gone to, the first being in Turkey in 2006, but this time we also took our daughters, Miriam and Tamar with us.
In Wuhan, where we watched the eclipse we were joined by an American astronaut, Alvin Drew. Drew at the time was the US representative to the Russian space program and was stationed in Moscow for a year. He had read about our group in an article in the New York Times and decided to join us.
In this earlier blog post, http://www.ourownlittlecorner.com/2009/07/23/a-solar-eclipse-is-much-more-than-just-a-visual-experience/, I wrote about the overall experience of watching the eclipse and included a picture of Drew with myself and another member of our group Howard Spero.
And here is a picture with Drew, myself, and Miriam and Tamar: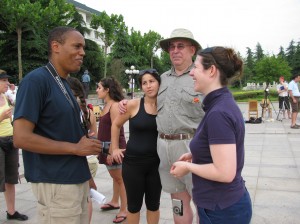 Drew was selected to be a member of the current visit to the Space Station, the last visit, http://www.nasa.gov/.
It was an honor to spend time with him talking about the space program and a thrill to actually have met an astronaut who has now flown in outer space. He even let us put on his special multi-million dollar sun glasses, a great guy.
Now if they would only bring back Firefly with new episodes, http://www.whedon.info/Firefly-Reruns-Join-The-Sci-Fi.html.