Today was Anne of Green Gables all day, all the time.
For those of you who haven't read the books (I haven't) nor seen the TV shows/movies (I only vaguely remember them) it might be a wonder that a fictional character has this kind of impact. I think that LM Montgomery, who wrote the books, was so strongly associated with Prince Edwards Island (all but one of the books was located at PEI) and local pride; there is lots of that we have learned helped.
In the morning we went to the Canadian Parks protected area where the home where Montgomery grew up is located and where they have created a version of the house and farm described in the books.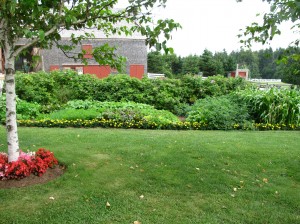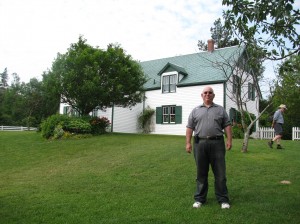 A vaguely interesting fact is that all brochures there are in three languages. The normal Canadian French and English as usual. And also in Japanese where evidently Anne of Green Gables is a big hit. We had noticed the large number of Japanese tourists we had seen wandering around Charlottetown where we are staying.
The walk around the grounds was fine, everything is well kept. At the end of the Haunted Woods trail, named after a trail in one of the books, is a museum maintained by the descendents of the family where Montgomery grew up. We heard a talk by the young great-<add another great perhaps>-grand daughter about the grounds there.
After that we drove along the north shore of PEI stopping at various beaches to walk around and having great fish and chips at Richards, a stand on the beach just before Dalvay, a victorian house (and associated cottages) where evidently many PEI citizens and visitors get married.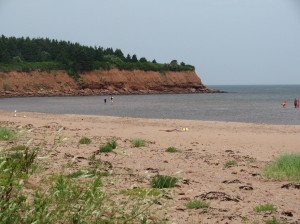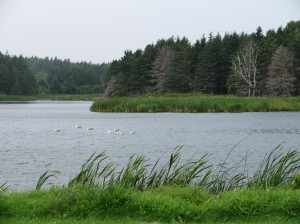 Last night we attended the 45 year old Anne of Green Gables musical, which has been shown pretty continuously since its original presentation. The lead had played the Anne role for four years earlier and had just graduated from the Royal Academy of Dramatic Arts in London. The actor playing Matthew, the bachelor brother who with his sister Marilla adopts Anne, had many years ago played Gilbert, the hate/love interest of Anne. Having said all that, my quick summary is that the musical was energetic, sincere, and long. I enjoyed seeing it once, unlike others my lifetime count is likely to stay at one, whether I return to PEI or not.
We had dinner at a restaurant called the Globe World Flavours, http://www.dinedrinkdance.ca/. I had a wonderful salmon dinner while Ellen had very good dried tomato risotto.