Today was our transition from the first part of our trip, in Cape Breton Island, to Prince Edwards Island.
Interestingly when we asked people in Cape Breton about PEI, they almost always said that it was pretty nice but they rarely visited there. One person described PEI as a potato field surrounded by water which we thought pretty funny. We found when we landed in PEI, the reverse was equally true. There they all said that Cape Breton was very pretty, but rarely went.
For one thing it is free to drive over the very short causeway to Cape Breton. It costs between $40 and $60 to take the ferry, or drive over the bridge, from PEI back to the mainland one-way. It is free to enter PEI. So once there, the trick is to figure out to sneak out and avoid the toll. 
Returning to our day, we started with a nice breakfast at the Inn at Glenyer in Mabou and headed to the PEI Ferry. We dropped by some craft places but found nothing of great interest. The ferry takes about 75 minutes to cross over to PEI.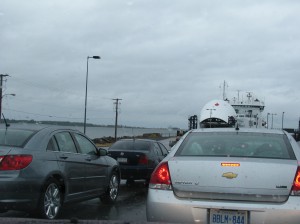 While on the ferry we saw our first Canadian Mounted Police which do have a striking uniform. For some reason recalling the moose warnings from the Cabot Trail, I kept thinking of Rockie and Bullwinkle, http://en.wikipedia.org/wiki/The_Rocky_and_Bullwinkle_Show.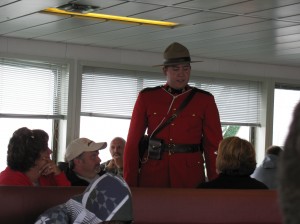 Once off the ferry, we stopped for a quick lunch at Tim Horton's which is a chain of quick food restaurants all over Canada. For those who haven't gone it is a combination of a stripped down subway and a Dunkin Donuts. For example I ordered a chicken salad combination which came with a sandwich, a drink, and a donut. While we both felt this was an important check the box moment in our trip, like our visit to Lik-A-Chik, not to be repeated.
After checking in at our B&B in Charlottetown, Heritage House, located in the center of PEI, we spent most of the afternoon wandering around, and seeing all of, downtown Charlottetown.
I was very shocked to see a remnant of my life from some 20 years ago, a Microage Computer Store.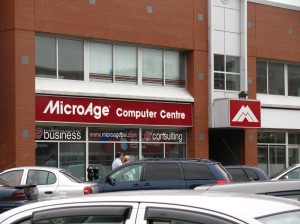 I was one of the early Microage Computer Store franchises during one of my first entrepreneurial crashes and burns. When your franchisor enters chapter 11 two months after you open your store, it ends up being what we might call today 'a teachable moment'.
We had dinner at one of the very trendy PEI restaurants, Lot 30, http://www.lot30restaurant.ca/index.php . We both had fish, it was truly wonderful.
Afterwards we attended a show we wandered by during our walk, a local production about the life of a local radio announcer Loman McAulay who broadcast on station CFCY, http://en.wikipedia.org/wiki/CFCY-FM, for 44-years. Among other local artists he discovered were Anne Murray and Gene MacLellan. The latter wrote Snowbird and Put Your Hand In the Hand.
It was what one might call 'very local'. The singers were pleasant and it gave us a sense of the love the residents have for their home institutions.
Tomorrow we explore the north-central part of PEI, the home of the home of Anne of Green Gables, followed tomorrow evening by our seeing the musical Anne of Green Gables. So the question for tomorrow is, is there any other place where a fictional character is so visited outside of a theme park? To avoid the truly cynical answer, perhaps I will limit it to fictional characters written during the last few hundred years.